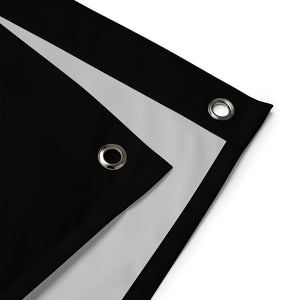 Decolonize smile flag
A few years back, I was lurking near my art piece at a gallery, and someone said it looked "angry". I mean, with all those in-your-face red and black ink strokes, and ink dripping all over, I can see their point. But here's the reveal: my work is just as much about protest as it is about...wait for it...joy! Yeah, you read that right. Don't get me wrong, anger is a valid emotion, but for me, been there, done that. Next!
In the early stages of my journey, anger was the dominant force, but with time, perspective, and the decision to take action, the heat of the anger cooled, birthing joy for the most prat. Now when I learn a new piece of information, contextualizing it within the current paradigm and reflecting it through my art excites me. Does it correct my previous ideas? Who in my circle can I talk to about this? Can it be part of an existing lecture or a completely new topic?
For me, and I suspect for many of you, decolonization isn't about wearing a malong or having handicapped tattoos all over your body. For me, it's about how you learn these pre-colonial systems, practices, frameworks, and incorporate them into your daily life while being beautiful in your own way while watching the latest K-Drama on Netflix wearing Gucci. Acknowledge the contradictions. Embrace the grey areas. I gravitate towards others who want to build off our collective colonial mentality in an action-oriented fun way. Let's colonize the colonizers together.
• 100% polyester
• Knitted fabric
• Fabric weight: 4.42 oz/yd² (150 g/m²)
• Print on one side
• Blank reverse side
• 2 iron grommets
• Blank product components sourced from China and Israel
Size guide
| | | |
| --- | --- | --- |
|   | LENGTH (cm) | WIDTH (cm) |
| One Size | 87.6 | 142.2 |