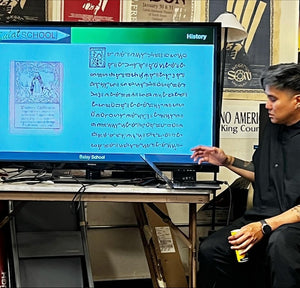 4 week Sulat program pilot


This pilot program is currently by invitation only. Please contact me at k@kabuay.com if you have questions. In this 4-week course, I'll take a few students 1-on-1 directly through the program. We'll meet online via video and screen sharing 1 day a week for 4 weeks. I'll work with you to schedule the 45-60 minute sessions. My schedule is flexible.
You'll have superior knowledge with a deeper understanding of the script and its contexts.If there's still something you're still not clear on after the 4 weeks, I'll work with you personally. until you do. 

Prices go up for the next batch until the general public release.  
Program overview 
Week 1 - History, present, future, regionalism
Week 2 - Socio-economics, practitioner profiles, value, resources

Week 3 - Character mechanics, fonts, apps, translators, languages, common mistakes

Week 4 - Hands on exercises, art vs handwriting, developing a personal practice
You'll also get access to the on-demand course when launched + a digital copy of my Sulat Kamay workbook that we'll use in the program.
-----
Mabuhay! I'm Kristian Kabuay, author of An Introduction to Baybayin. Welcome to Balay School - A platform for prePhilippine cultural education for the diaspora. The content is based on over a decade of learning and teaching our culture. The first course is on traditional writing systems you may know as Baybayin. 

PROBLEMS
"There's so much information online. It's confusing to know what's right or wrong"
​"I don't speak any Philippine languages so I have a hard time"
"I feel stuck"
IN SULAT SCHOOL, YOU'LL LEARN:
✔
Basics
- The core characters, rules, vowel markers, pronunciation, common errors, etc.
✔
 Advanced - Stroke technique, typing, using translators, modern methods, etc.
✔
Language shortcuts
 - A technique I created specifically for people who don't speak any Philippine languages.  
✔
 History - Origin, theories, the decline, etc.
✔
 Value - Breakdown of three values
HOW I'VE HELPED OTHERS
- Jasmin - 
As a Filipina, born and raised in Germany, I got inspired by your work. I simply googled "Filipino calligrapher". Coz i am a designer and love doing calligraphy. With your books and learning sections I am willing to learn and practice more.
- Layla - 
You helped me learn my parent's last names in Baybayin. I learned Baybayin isn't something to be cool, but it's deeper than that... it's our heritage, and we shouldn't let it die. I also learned Baybayin is precolonial, and it should be more appreciated. Please excuse my lack of better words. It's sort of embarrassing not knowing much about my heritage due to my parents being deeply Americanized. However, this makes me feel, I think, more rooted to my ancestors. 
- 
Koroush
 - 
I asked Kristian to create a piece for me that translates to "I'm thankful". I wanted this as a tattoo as it is something my mother (Filipina) has always reminded me. Aside from the tattoo, Kristian helped me indirectly learn more about my culture and history. Being a half-Filipino growing up in the United States, I often never think about my roots and the history of my culture. Prior to purchasing the artwork, I noticed that Kristian asked about the context of the words. In the description that he wanted people to do research on their own in terms of figuring out their "piece" (in terms of words) in their native dialect. He simply prefers people to understand a little bit of their culture. This led me to research the history of the Philippines as well as my mother's native dialect (Ilonggo). With this piece, I not only have an invaluable memory and reminder of my mother but also truly feel more in line with my pre-colonial culture and the context of the script itself.
SULAT SCHOOL IS
 

NOT

 

FOR YOU IF....

X

 

Looking only to get a design for the tattoo

X

 

In a hurry

X

 

Not interested in history

X

 

Not interested in psychology

X

 

Not interested in decolonization or advocacy 

X

 Don't make time for the program
SULAT SCHOOL
 

IS

 FOR YOU IF....

✔

 You're interested in learning how to develop your own handwriting

✔

 Interested in how to use my methods for other cultural practices

✔

 You're interested in the complexities of decolonization as someone in the diaspora


✔

 Not interested in history

✔

 Have an open mindset

✔

 Want to pass on the foundational value to the next generation 

You'll get access to workbooks and other digital resources